Privacy 2013: Why. When. How — a talk by Werner Koch
A couple days ago Sylvain (http://www.beuc.net) asked me to proofread his transcription of the latest talk by Werner Koch (http://werner.eifelkommune.de/).
That was an occasion for listening carefully to what Werner has to say about electronic communication privacy in the global police state. Following his speech while paying attention to the text was instructive for me and, I think, a good use of my time. Werner is very competent on the subject: he's a security expert and, as you probably know, the main author of GPG (http://gnupg.org).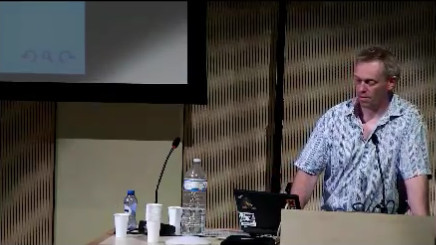 I've known Werner for years thanks to the GNU Hackers Meetings, but I don't think I ever heard an actual seminar by him before. I found this talk particularly accessible, and actually a good introduction suitable to everybody with basic computer competences.
The talk took place last month at RMLL Rencontres Mondiales du Logiciel Libre, a (mostly) French-speaking free software conference: see http://2013.rmll.info/en/. By the way, I'm very impressed by how RMLL has grown up since 2008, when I attended it in Bordeaux; it was nice and friendly back then, but relatively small. I heard they even had problems with funding this year, and despite that they even had an English-to-French simultaneous interpreter, and top-notch speakers. If you speak French, I highly recommend the event next time.
The transcription is now on April's web site (http://www.april.org/en/privacy-2013-when-why-how-werner-koch), along with a French translation. Sylvain did most of the work here — transcription takes time; I only did some nitpicking on the English transcription including making sense of a few phrases which were difficult to understand at first, and a couple corrections. Other volunteers contributed as well, particularly Thérèse and Christian.
A video including both Werner speaking and his slides is available at http://video.rmll.info/videos/privacy-2013-why-when-how/#quality=hd&player=html5.
— Luca Saiu, 2013-08-05 23:05 (last update: 2013-08-26 12:16)